Welcome to the new Highwood Village Hall website.
The Highwood Village Hall had its Grand Opening on the 16th July 2011.
The residents of Highwood have waited a long time for this new Village Hall. Our original Village Hall was an ex-American army hut erected in the late 1940's and forced to close in 2001 due to the deterioration of the fabric of the building.
The parish of Highwood is located in northwest Chelmsford between Writtle, Roxwell, Blackmore & Ingatestone. It is composed of the rural hamlets of Highwood, Loves Green and Edney Common, on one side of the A414, and Radley Green & Cooksmill Green on the other. Where rural communities such as ours are dispersed, residents can be isolated. Socialisation promotes active participation and is really important to help communities strengthen and develop. Without a community meeting venue, Highwood was in danger of becoming a rural non-social dormitory settlement.
By breaking the project into milestones, the Highwood Village Hall Committee 2005-2011 under the Chairman Anthony Pipkin raised funding to have the old hall demolished, architect plans submitted and approved, professional feasibility and project development studies commissioned and the construction put out to tender.
The Highwood Village Hall now provides a large main hall with wooden floor, a fully equipped kitchen with serving hatches to the main hall and front reception area, disabled access, parking and toilets, baby changing facilities and shower. In the near future a play area for children will be created in the field behind the hall.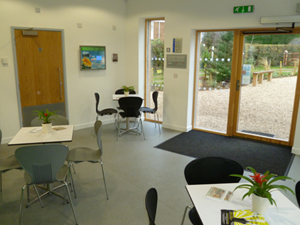 Reception Foyer ......................................................Main Hall Area
Highwood is a rural community and a significant proportion of the Parish is covered with precious ancient woodland. The environment is important to residents and we wanted to do our best to build our new community building with minimal impact on the local and global environment. The building was designed to echo Highwood's rural environment, using the wood clad structure and site to provide new habitat for endangered flora and fauna. We were one of the first Village Hall's in the UK to be designed to 'passivhaus principles' the leading international design standard for low energy sustainable buildings. We generate our own electricity from photovoltaic cells and heat our water from solar panels. The roof pitch and orientation ensures the renewables gain the maximum sunlight. Where possible, materials are natural, recycled or reused. For example the multi-coloured plastic surfaces are made entirely from recycled crushed and pressed plastic bottles, the grid car parking blocks are made from 100% recycled plastic, and the earth dug for the foundations has been reused in the landscaping. The building is a working classroom of green technology demonstrating the various approaches to building design, construction and use that can be taken to reduce energy demand and CO2 output, thereby protecting the immediate and wider environment.
A community garden has been designed with the help of students from Writtle School of Design to incorporate a mini orchard of fruit trees native to Essex for example, D'Arcy Spice apple, Chelmsford Wonder apple, Johnny Mount pear, Eros apple and Discovery apple. Under the orchard trees the community have seeded the ground with a native English wildflower meadow and spring bulbs.
In rural environments native hedgerow is the best boundary segregation as it provides important habitat for wildlife that can so often be displaced by development. We org
anised a community planting day where the children from Highwood Primary School together with volunteers from Ford Motor Company, Chelmsford City Council, Esssx County Council and residents planted native hedgerow donated by The Woodland Trust, as part of the Jubilee Woods project.
The external infrastructure of the building incorporates bird, bat and insect boxes and we already have some bats making use of the boxes and honey bees in our wood soffit cladding! A wire curtain on the tallest side of the building is planted with a green wall of scented climbing plants, to help blend the building with the landscape.
The building provides the infrastructure from which a range of clubs and service providers can operate to enhance, maintain and introduce real community led social, economic and environmental improvements for Highwood.
Within the main Hall area of the building there is a very special artwork. Eight large canvasses, collectively spell "HIGHWOOD" made by everyone in the School Community, children, parents (both past and present), teachers, governors and key members of the local community. Each letter was given a theme that encouraged individuals to think about 'What the Village Hall meant to them".
"

H

" - Hopes,

"I" - Inclusive,

"G" - Generosity,

"H" - Home,

"W" - Wishes,

"O" - Opportunity,

"O" - Opening Doors,

"D" - Dreams.
Kate Milner art teacher from Highwood Primary School (2011) echoes words felt by us all:-
It is my hope that the canvases remind us of many things. In particular, that we all (children and adults alike) have individual needs and hopes for our lives. That said, however, they remind us that we cannot function without being part of a Community. It is something, unfortunately, we take for granted in our busy lives and we often overlook the fact.
These canvases remind us that our Community can, indeed, be the source of our inspiration".
The Village Hall Committee were delighted that In October 2011 the Mayor of Chelmsford Councillor Bob Shepherd MBE, awarded the Highwood Village Hall with the Chelmsford City Council "Community Award."
The Mayor of the 'City of Chelmsford' 2011-2012, Councillor Bob Shepherd MBE, and Mayoress, Mrs Doreen Shepherd with Petra and Richard from Highwood Village Hall Committee, Head Teacher Helen Hutchings with children from Highwood Primary School and Steve Terry with students from Writtle School of Design.
Highwood Primary School have produced a set of nine beautiful note cards depicting the inspirational artwork the children designed and produced for the Highwood Village Hall.
A pack of nine cards is £4.50 and funds go towards supporting our wonderful rural school.

Payment can be made by cheque to 'Highwood Primary School', or please pop into the school during term term hours. (Address: Highwood Primary School, Loves Green, Chelmsford, Essex CM1 3QH).
artwork designed by Highwood Primary School